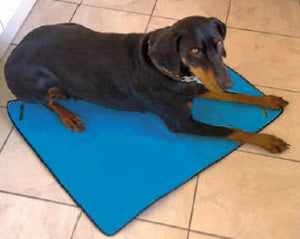 These stylish and easy to use KeepCool Dog Mats have been specifically designed to keep your dog cool however hot it gets.  They are environmentally friendly, brilliant for all outdoor or indoor activities (before, during and after), walking, obedience, car travel, sailing on your boat or just lying in the garden.  They feel cool and soft to the touch, are lightweight, breathable, durable, comfortable and do not drip.    The Bandanas adjustable velcro tabs are simple, secure and comfortable. 
These products are totally different from any other cool product on the market! You will be amazed how they help keep your dog cool.
KeepCool products are made from a unique synthetic microporous material that is activated by water.  As it puts moisture into the product, the capillary action of the microporous material and the controlled evaporation actually cools your dog more than the outdoor air without making them wet.  It is super absorbent - absorbs 6 times faster and holds 100% more water than any other material.  They are easy to use, just soak in cool water for a few minutes (no refrigeration necessary) and lightly ring out. 
It has been tried and tested to keep your dog cool for up to four hours at temperatures of 30°c and much longer on a normal summer's day!  You can extend the cooling effect after several hours with a hose or from a bottle
KeepCool Dog Mats have helped dogs with illnesses that cause breathing difficulties in the heat, and has saved lives.  They help prevent panting and moderate breathing, relieving stress.  It has been tested with a thermo imager that showed that the cool mat and cool bandana will help an already overheated dog reduce its temperature to normal within 5-10 minutes.   
They are also used by the Government Agencies, Flyball Teams, Obedience/Agility Training, General Public, and by many top show dogs.  It has been personally tested by the Government Agencies and they have found that this product is the best on the market for what it does.
Please try these products when dry as once wet, we are unable to refund or exchange due to possible marking.
| | | |
| --- | --- | --- |
| Mat Size | Measurements are approx. (cm) - sizes may vary | Measurements are approx. (inches) - sizes may vary |
| Small | 46cm x 66cm | 18" x 26" |
| Medium | 91cm x 66cm | 36" x 26" |
| Large | 91cm x 132cm | 36" x 52" |