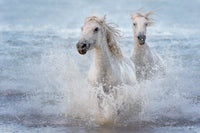 Endorsed by Veterinarians and Equestrians Worldwide,  FEI, BHA & HRA Compliant VetGold Animal Skin Care line is Enriched with Dead Sea Minerals and made in Israel.  All natural, effective and gentle to use on dogs, cats and horses and is a must for your tool box. Available to Veterinarians through three Veterinarian Buying Groups across Canada and during competition season at ThunderBird Show Park.
If you think it will work it probably will! VetGold will exceed your expectations, guaranteed!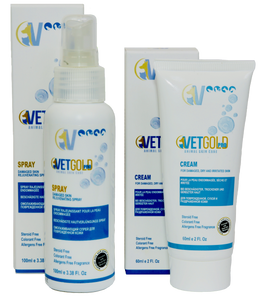 VetGold™ Topical Cream & Spray
VetGold™Topical Cream & Spray are designed to promote the natural healing of dry, damaged, irritated and itchy skin. For dogs, cats, horses and yes, humans use it too.  Enriched with Dead Sea Minerals, Avocado Oil, Aloe Vera Oil, Calendula and Propolis to revitalize, rejuvenate, moisturize and nourish skin cells.

BUY THIS PRODUCT
EquiMud™ by VetGold
EquiMud™ is a strong and powerful mud dressing for horses to treat aching joints, muscles, tendons and inflammation. Steroid Free, contains a High concentration of Magnesium (MgCl 34.43%).  Certified by LGC Laboratories Newmarket to be HRA, BHA & FEI Compliant.
BUY THIS PRODUCT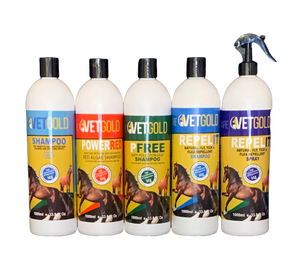 VetGold™ Shampoos & Repellents
VetGold™ Shampoos & Repellents each have a specific use. They are all Enriched with Dead Sea Minerals, high in Magnesium including other natural conditioning ingredients. Sensitive & Irritated, PowerRed Moisture Retaining and PFree AntiPollution Shampoo and Repelit Spray for Flies, Fleas & Ticks are all very effective with rave reviews. Steroid free, antibiotic free, with natural active ingredients, a unique blend of natural oils and plant extracts.

BUY THIS PRODUCT
We love VetGold. EquiMud goes on and washes off easily with no need to bandage. Reduces swelling, heat and inflammation within minutes on legs and joints. It works brilliantly and is a staple in our barn. The Topical Cream is excellent on tender mouth corners and the Spray is amazing for under saddle rubs, insect bites or sensitive areas of hair loss. I love it on my eczema and scratches too. The shampoos are incredible and you use so little at a time. It leaves our horses' coats slick, soft with a deep sheen and in show shape.

Cathy Chalack, Ulterra Equestrian, Breeder of Champion Hunters & Jumpers, AB
Really loving the cream and spray:) I'm using more the spray than the cream on my horse. The cream I have used on some missing hair patches on her neck area. The spray has really helped for her belly the bumps have really gone down and haven't seen any new ones

Violet L - Equestrian, BC
I am truly thankful for VetGold and can strongly stand behind their products. EquiMud is always in my trailer for after runs to draw out heat or strains in tendons and muscles. The cream always holds a spot in my vet kit for any wounds or irritated skin on not only my horse, but my dog as well. The Repelit Fly Spray: ok, this has to be my favourite fly spray ever. The fact that it keeps the bugs away for 2 days with one application to the body still amazes me! "Less is more" when it comes to all VetGold products which makes it worth it's weight in Gold!

-Dalyce Temple. Barrel Racer, BC
I too was surprised that the expired spray product was still effective. I know the cream is good forever. BTW I used to send it to my Dad in Saskatchewan just before he had to go into LTC. He had very sensitive skin and the cream worked like magic. He knew it was an animal product but my one sister had a fit, so we disguised the tube.LOL

Phyllis Ralph - Pet Parent, Ontario
I have used Vet Gold for various scrapes, itches and ailments for my dogs over the years and have found it to be extremely effective. Highly recommend it.


Peggy R - Pet Parent, BC
We have been using Vet Gold for about 3 years. Love everything about it and a tube goes a very long way. I think the magic is the dead sea minerals. So glad it is available here now!

Tracy Rae Moore, BC
What do I love about VetGold? So many things. I LOVE the Shampoo smell, the lather was amazing and a little really went a long way. I loved the way her coat felt after and it really did a great job. She was super gross and I thought it would take a couple baths to get her clean but it did the job in one go!

-Becca, Equestrian, BC